The previous owners of the Airbnb house were REALLY into accent walls (especially in unique colors).  While we planned to repaint almost all the rooms anyway, there was one wall left between the kitchen and living room painted what I like to call "French's Mustard Yellow".  Since we didn't plan to paint the kitchen or living room I decided I wanted to do something fun with the wall if I was going to be painting it anyway.
I had been wanting to make a chalkboard wall in our own house and thought I would turn it up a notch by adding some magnet action as well.
The whole process took maybe an hour and a half of work (not including overnight drying time between the two paint types.
The magnetic primer can be a bit tough to work with.  The magnetic pieces sink to the bottom very quickly, so the key is to make sure you stir immediately before application every time.  You need at least three coats of the paint for magnets to stick.  I let each coat dry 15-20 minutes before painting on another coat. Do keep in mind you are painting tiny pieces of metal to a wall, it's not going to be able to hold up shelves or bottles of beer.   I bought a set of letters to put on the wall, which hold well enough – though you still have to carefully place them to get them to stick.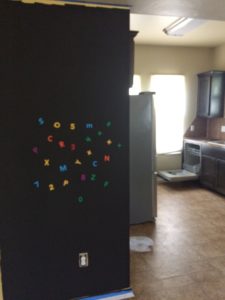 After letting the primer dry overnight, I painted on two coats of chalkboard paint.  I choose "Moonstone" for the color so it wouldn't be as harsh as a classic black chalkboard, but I think both would have looked good.
I spray-painted the letter set silver to give it a classier look, and drew a design on using my trusty projector and chalk markers to get the final product: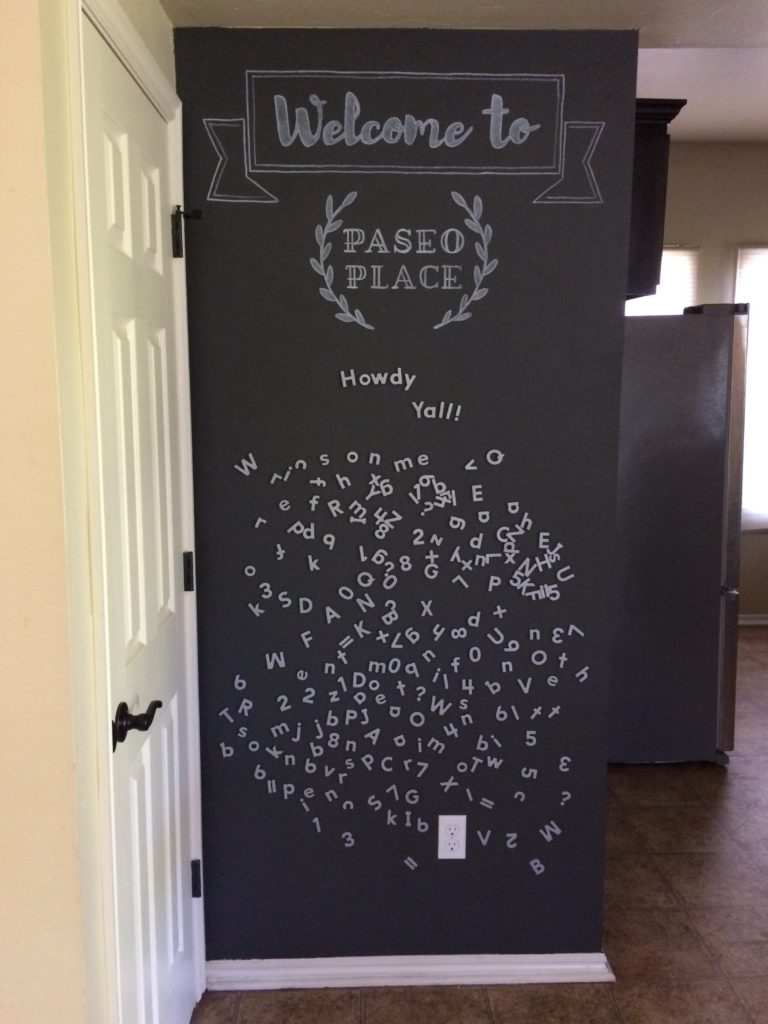 What do you think? I'm thinking I'll turn the inset of our pantry door into a chalkboard next, perfect spot for a grocery list!